2011 Cadillac CTS Coupe Introduction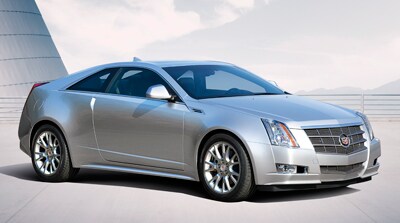 A new Cadillac CTS Coupe has joined a growing family of CTS-branded vehicles. The family started with the CTS four-door sedan in 2003, based on a new rear-wheel-drive platform, a major change for a division that had been heavily front-wheel-drive for many years. Then Cadillac added the high-performance CTS-V, using a variant of the Chevrolet Corvette V8 engine and a manual transmission, and then added the slick CTS sport wagon. Now the CTS family includes a radically edgy coupe. Cadillac's last coupe, the Eldorado, went out of production in 2002.
The powertrain chosen for the CTS Coupe is a 3.6-liter V6 engine with four valves per cylinder, variable valve timing, and direct fuel injection, about as modern as any other V6 engine on the planet, and it is capable of producing a whopping 1.4 horsepower per cubic inch at engine speeds approaching 7000 rpm, or 304 horsepower from only 217 cubic inches, on regular fuel. For reference, the old 500 cubic-inch Cadillac V8 made 400 horsepower, or 0.8 horsepower per cubic inch, and generated unspeakably bad fuel economy, whereas the new engine can reach 27 mpg on the highway easily. Even in a car that weighs more than 4000 pounds with two people in it, the V6 pulls very strongly at full-throttle and sounds muscular and powerful while doing it, which some other V6 engines in this class do not.
The CTS Coupe is available with all-wheel drive.
The CTS Coupe offers a six-speed automatic transmission. It's also available with an Aisin six-speed manual transmission, which comes with summer performance tires and rear-wheel drive. The Summer Tire Performance Package is also available with the automatic transmission equipped with paddle shifters.
What started out as a purely provocative concept vehicle under former GM product czar Bob Lutz got such a strong response that GM decided to build the CTS Coupe as a regular production vehicle to compete with the new rash of luxury coupes from the German and Japanese luxury brands. The sheetmetal, decoration and dimensions of the production coupe are all nearly identical to the concept vehicle, and it is one angular and angry-looking beast.
Inside, the CTS Coupe mimics all the other cars in the family with a rich mix of chrome, wood, leather, and in-car electronics and entertainment systems that are on par with any other vehicle in this relatively small class, with navigation, AM/FM/XM/CD/MP3 audio, OnStar, Stablitrak chassis control, and a comprehensive information display.
The CTS Coupe competes with the Mercedes-Benz E-Class coupe, BMW 335i coupe, Audi A5, Lexus IS 350 C, and Infiniti G37 coupe.
The CTS-V Coupe boasts a 556-hp, 6.2-liter supercharged V8, upgraded suspension, larger high-performance tires and alloy wheels, huge Brembo brakes, and GM's Magnetic Ride Control shock absorbers, for what Cadillac claims is the world's fastest sedan.