2013 Cadillac XTS Introduction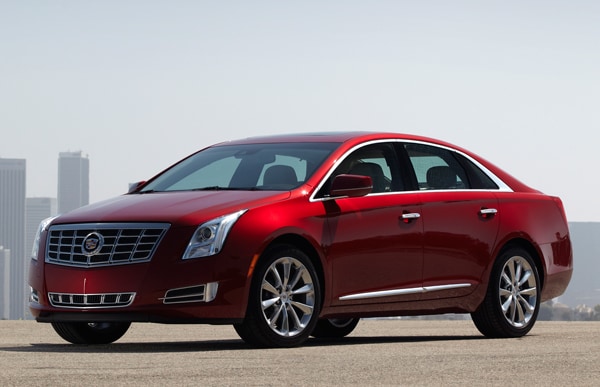 Cadillac is introducing a new full-size sedan for 2013. The 2013 Cadillac XTS fills a hole left in the Cadillac lineup since production of the STS and DTS ended a couple of years ago. In their place is the 2013 Cadillac XTS, a roomy cruiser that shows off the latest technology, upgraded interior materials and a refined Cadillac design.
Exterior styling on the Cadillac XTS is bold, but softer than on other models we've seen from the brand in the past few years. Also notable is the use of premium interior materials, such as leather upholstery as standard equipment, as well as a fully configurable electronic TFT (thin-film transistor) instrument cluster in front of the driver.
The Cadillac XTS is the first model to use CUE, an acronym for Cadillac User Experience. The system features a large touchscreen and uses proximity sensors, haptic feedback and voice recognition to control phone, audio and navigation functions. CUE comes standard on all XTS models, but navigation costs extra on the two lower trim levels. To sweeten the deal, Cadillac is including an iPad with all new XTS purchases, pre-loaded with an app that helps owners learn how to use the CUE system.
Underneath the new wrappings are decidedly familiar components. Namely, General Motors' Premium Epsilon platform, originally developed by Opel and used in several variations on GM vehicles worldwide, including the current Buick LaCrosse. The 2013 Cadillac XTS is powered by GM's much-used 3.6-liter, naturally aspirated V6 engine found on other Cadillac and Chevrolet models. Same goes for the 6-speed automatic transmission.
The new Cadillac XTS is longer than the old STS, shorter than the DTS, though the XTS rides on a much shorter wheelbase (111.7 inches). The XTS is slightly wider than the STS but 2 inches narrower than the DTS. The front seats in the new XTS are slightly roomier than those in the STS and DTS.
The 3.6-liter V6 in the new XTS delivers 304 horsepower at 6800 rpm, 264 pound-feet of torque at 5200 rpm. That's similar to the output of the old STS V6 model. Fuel economy in the Cadillac XTS is an EPA-estimated 17/28 miles per gallon City/Highway. The XTS is much more efficient on the highway than the old STS and DTS models, which were rated 15/23 mpg.
The new Cadillac XTS offers European-inspired ride and handling, quality materials, and plenty of standard features. And it retails for much less than comparable models from BMW, Mercedes-Benz, Audi, Lexus, and Hyundai, making it a compelling value.