2017 Cadillac XT5 Introduction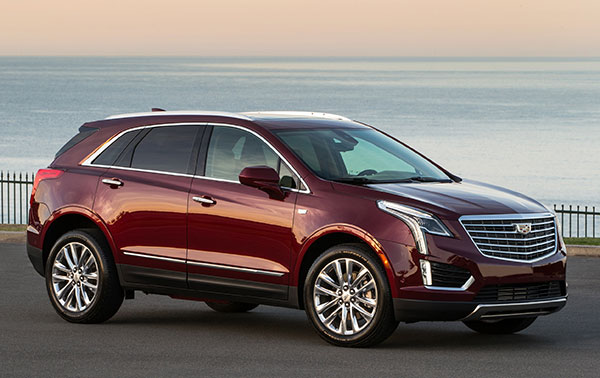 The 2017 Cadillac XT5 is a crossover that takes the place of the SRX. Rather than a dramatically different new model, the XT5 is an evolutionary replacement. Following on the heels of the CT6 sedan, it's one leg of a broader leap forward for the company. The SRX was a sales success, so the XT5 is a crucial replacement for Cadillac.
Roughly identical to the SRX in size, the new five-passenger Cadillac XT5 weighs about 278 pounds less, and performs better. Wheelbase is about two inches longer. Track width has gained an inch, pushing the front wheels a bit outward.
Cadillac XT5 premium midsize crossover can be compared with the Lexus RX, Acura MDX, Lincoln MKX, BMW X5, Mercedes-Benz GLE, Audi Q5.
As its name suggests, the Cadillac XT5 is packed with technology. Detail work is better than ever. As in the CT6, one prominent goal was use of lighter-weight materials and methods. Aiming at younger shoppers, designers turned to more voluptuous design, as well as developing more extravagant interior appointments.
Beneath the hood, a new 3.6-liter V6 engine develops 310 horsepower and 271 pound-feet of torque, delivered to an 8-speed Aisin automatic transmission. Even though the transmission is responsive and yields well-damped shifts, the XT5 never feels like a performance machine. Unlike some of its competitors in the midsize crossover category, the XT5 bears no relationship to any sports sedan.
Front-wheel drive is standard, with all-wheel drive available on all but the base model. In the new AWD system, dual clutches can send up to 100 percent of torque output to either the front wheels or the rear.
Active-safety features come in two option groups. A Driver Assist package ($2,340) for either the Premium Luxury or Platinum model includes full-speed adaptive cruise control, low-speed automatic braking with pedestrian protection, automatic rear low-speed braking, automatic collision braking, and advanced park assist. Those upper models come standard with a Driver Awareness package that includes forward collision alert, lane keep assist, front pedestrian detection, automatic emergency braking, and automatic high beams, optional ($770) on the Luxury model.
Like the CT6 sedan, the XT5 offers a new Rear Camera Mirror system. Instead of displaying the view from a rear-mounted camera on a video screen, it appears within the rearview mirrors, in high resolution. Cadillac claims it digitally removes obstacles, improving the view by 300 percent. Not everyone is fond of this feature, but the available surround-view cameras and color head-up display are helpful.